BLU746 Joined: Sep 01, 2018 Last Sign In: 1 week ago Subscribers: 12 Video Views: 421 Channel Views: 237
Age: 14
Hi i'm blu746 or johak or whatever. i make videos, ig. its kinda boring in subrocks so im going back to vidlii and besides vidlii remade is also good.
Interests: Making videos
Movies: Borat, I'm way too much of a fan of borat.
Music: a lot of interest in walten files soundtrack, also other songs.
stalk me. or something, idk.
AlienMyth64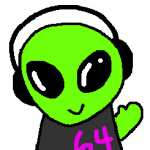 Videos: 42
Video Views: 27,241
Subscribers: 524