noctis Joined: Nov 11, 2017 Last Sign In: 2 weeks ago Subscribers: 4 Video Views: 79 Channel Views: 114
Age: 20
[screw cookies the dark side has cute alternative dudes] // i'm cyrus! i'm a sucker for the 2000s internet. i'll try to check up on messages whenever i can but you might have better luck reaching me on my twitter, @x99306.
Interests: i have a wide variety of interests, but my biggest ones are linguistics, comic books, and paranormal/unexplained phenomena.
Music: too many musicians to count, but i listen to a lot of trance, 2000s pop, metalcore/post-hardcore, emo rock and k-pop
4:36
godzilla : internet war
2 months ago
20 views





2:36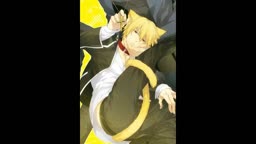 gilgamesh - bad boy amv!!
1 year ago
59 views





4dojo
(1 year ago)
lol. Thanks ;)
4dojo
(1 year ago)
thanks. It's my dream to travel space someday, but this is probably the closest I'll get to that xD
4dojo
(1 year ago)
lol. That's true. Gotta blend with the times.
4dojo
(1 year ago)
cool avatar. is that a band?
Please
log in
to post a comment!