This Video Will make You Hate PewDiePie (PewDiePie Is Racist)
I made this video originally to expand on the discussion of influential creators controlling the income for many with unscrupulous comments on ethnic minorities. I expand on this further in my video enjoy.
https://twitter.com/donvespucci
Thumbnail Creds: @ThafNine
More From: don
Related Videos
Video Responses (

0

)
Sign in to make a video response
Text Comments (

20

)
Sign in to post a comment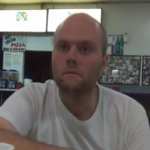 12
While PewDiePie was one of the most marketable people in the annals of internet history, corporations need to understand that PewDiePie is human. Yes, we do screw up and the costs of the actions are inevitable. But you got to understand that we shouldn't take offense over a racist word when there are worse things to deal with out there. Feminists, government officials, and minorities wanting to impeach and imprison a president that created a lot of private sector jobs. Small businesses are slowly coming back, etc. PewDiePie's celebrity status will eventually fade, but there isn't much going on YouTube nowadays. You can thank YouTube and Social Justice Warriors for censoring content mercilessly. You can't blame PewDiePie's racism for it.
9
While I think he shouldn't have said that at all, it was more of an angry statement that sounded more like it was it was supposed to be overly edgy than anything. That word, while it has a dark racist history that has to do with history, isn't racist to say unless used in a racist context. He wasn't telling that to a black person, afaik, and he didn't mean it in a racist way. Sure, it wasn't a good thing, but it didn't show that he believes, "one race is superior to another", which is what racism itself is. I could, myself, say it right now, but just me saying it or calling someone that doesn't make me racist, my actions do.
| | | |
| --- | --- | --- |
| Date: Jun 08, 2018 | Views: 722 | Ratings: 53 |
| Time: | Comments: 20 | Favorites: 3 |