You are here, at my Multi Base (((2))) where you will be provided with Youtube poops too risky to upload to YouTube all worry free. There will be no changing a song in the video or the notion of having absurd claims from Viacom or the like. All content here will remain exactly as I intended it to be with no sacrifices or last minute changes to appease the YouTube system. I believe everyone has to right to create anything they wish without having to be silenced. There are people who's interest in creating content how they please diminishes all due to these absurd restrictions and guidelines. As long as the content being produced is not something highly illegal or the like, then everyone has the right to create what they desire. As for the content on this channel, you could expect something new from me every once in a while.
Interests: Adult Swim, Equestria Girls, Daydreaming and Stuff
Movies: Anything by David Lynch, Donnie Darko, Nosferatu, The Holy Mountain, The Color of Pomegranates, Salo, Un Chien Andalou
Music: Boards of Canada, Autechre, Aphex Twin, Amon Tobin, Clark, Aeroc, Flying Lotus, Godspeed You! Black Emperor, Elecktroids, Plaid
Books: The Designers Republic Catalogs, Your Children by Charles Manson, Alice in Wonderland, The Magical Diaries of Aleister Crowley
1:00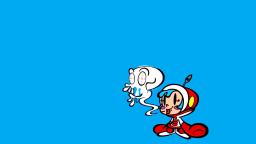 Chocolate Milk [Chan]
4 months ago
17 views
Recent Activity
Multi favorited a video

(3 days ago)




Multi favorited a video

(3 days ago)




Multi commented on a video

(5 days ago)




Arthur sells drugs

So you're the one who made this Ytp. I recall seeing this video a long time ago on YouTube and have been trying to find it once again ever since. I ju...

Multi favorited a video

(5 days ago)




Multi favorited a video

(5 days ago)



There are no comments for this user.
Please
log in
to post a comment!