96KuroB0000i Joined: Jun 29, 2020 Last Sign In: 1 month ago Subscribers: 22 Video Views: 217 Channel Views: 214
Age: 27
What's up guys? Sparkschu Itai here. I want to know that I like Pokémon and Kuromi SOOOOO much.
I love Pokémon for 20+ years. Not months, YEARS!!
I also like Kirby, Hamtaro, and Kuromi (twice) as well.
My switch code is SW-0651-5418-4901.
I was born in Japan on 1996, and my birthday is on March 20th.
I hope you guys enjoy my contents!!
Country: Japan
Connect with 96KuroB0000i
Channel Comments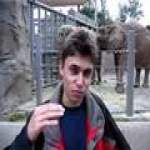 96KuroB0000i
(8 months ago)
Yes I'm alive believe it or not :3
96KuroB0000i
(1 year ago)
Tbh, I don't really care about YouTube's subscribers and views that much. No seriously I am.
96KuroB0000i
(1 year ago)
If my YouTube account got terminated, I'm going to use this and never using YouTube again.
96KuroB0000i
(1 year ago)
I officially loving VidLii, because there's no BS ads, censoring video, etc.
96KuroB0000i
(1 year ago)
YouTube's getting outta hands. I might be uploading on Vidlii soon...if Vidlii have an iOS version that is.
Please
log in
to post a comment!
Recent Activity
96KuroB0000i favorited a video

(6 months ago)




Windows XP Song

a Song made COMPLETELY With Windows xp sounds. ^ Nearly all sounds have different pitch to remain in tune with one another. Enjoy, Share with othe...

96KuroB0000i commented on a video

(6 months ago)




96KuroB0000i favorited a video

(9 months ago)




96KuroB0000i commented on a video

(10 months ago)




96KuroB0000i commented on a video

(10 months ago)