JustinDark98 Joined: Nov 17, 2019 Last Sign In: 1 week ago Subscribers: 8 Video Views: 222 Channel Views: 110
Age: 23
My name is Justin G. Dark, but I also go by the name Twisted Dark Justin or even JD.
I make random videos that will either make you laugh, cringe, or cry. Most of it is me talking about the things I hate, like kids' shows that I can't stand. Though, sometimes I will praise stuff as well. FUCK CAILLOU!
I'm not entirely sure if this site is going to last. Once upon a time, COPPA scared everyone and I made this account as an escape from YouTube, only for the whole thing to be not as bad as they said it was going to be.
So, I'm on Vidlii and YT. Check out my videos and whatnot.
Occupation: Unemployed.
Schools: School of The Stupidity
Interests: Video Games, Music, Filming, Cats, Sex
Movies: Batman Forever, Jeepers Creepers, Office Space, Leprechaun, Zoolander
Music: KMFDM, Saliva, Metallica, System Of A Down, Drowning Pool, Alice in Chains
Books: No reading for me.
Connect with JustinDark98
Recent Activity
JustinDark98 became friends with TheVideoGamer64

(2 months ago)

JustinDark98 commented on a video

(6 months ago)




Talking About Barney The Dinosaur

@Cazzy Like I've said, Barney is better than Caillou. At least he doesn't whine like a spoiled brat ever 6 seconds and teaches kids bad manners. And B...

JustinDark98 commented on a video

(6 months ago)




JustinDark98 commented on a video

(6 months ago)




Happy Halloween 2020 (Batman Foreve...

@Cazzy Thank you. I'm on YouTube as well and I mainly upload there. I go by the name Justin Dark but if you search "Twisted Dark Justin" you'll find m...

JustinDark98 became friends with Cazzy

(6 months ago)
Channel Comments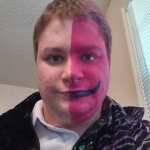 Please
log in
to post a comment!