BlastTheRiolu's Second Account.
BlastTheRiolu2 Joined: Oct 14, 2018 Last Sign In: 1 year ago Subscribers: 6 Channel Views: 141
This is BlastTheRiolu second account.
Check the main channel here : www.vidlii.com/user/BlastTheRiolu
In this one , there will be bonus videos and some unfinished that i might never finish again because of laziness or too much work.
Connect with BlastTheRiolu2
2:58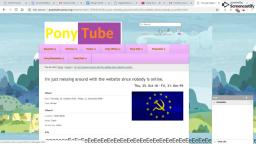 Fuck PONYTUBE!
2 years ago
258 views





Deleted Video
23 years ago
0 views





Private Video
2 years ago
0 views





Please
log in
to post a comment!