Connect with Crush40Freak89
TheVideoGamer64
(1 year ago)
I'm glad you're doing good. I'm glad everything has been okay with you buddy. I'm doing good as well and no problem my friend. :)
Crush40Freak89
(1 year ago)
@TheVideoGamer64
And only a while ago i noticed, that my first channel wasn't deleted after all.XD
But for now i will let this channel staying inactive for a while until i'll find something exclusive for this platform and i will decide later, if i'm gonna be mor active on it. Again really sorry for my way overdue respond and for making you concerned about me.
Crush40Freak89
(1 year ago)
@TheVideoGamer64
Yeah I'm good. Sorry for that late respond. I was way to busy wth real live and my other channels and due to a controversy around a certain former user of this platform, who was about to ruin it, i was forced to deleter my channel. Luckily he was blocked and thrown out of this platform and from that on i wanted to start again from the get go on here, but couldn't use my old channel account name, which is why i waited for Vidlii to respond to fix this problem.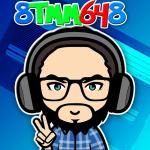 TheVideoGamer64
(2 years ago)
That's good and I'm doing good as well. I'm just chilling. Played any games lately?
Please
log in
to post a comment!