edray1416 Joined: Jun 05, 2017 Last Sign In: 5 hours ago Subscribers: 135 Video Views: 2,792 Channel Views: 2,193
Age: 31
On the original VidBit, I was Bourg Productions, a controversial ranter that pulled no punches. I'm back to my first YouTube username edray1416 doing educational videos among other things. This channel is still the home of radio style conservative media.
Schools: Wharton County Junior College (2006-2008)
Interests: Crime drama, gardening, numismatics, retro gaming, cooking
Movies: Mystery, politics, military
Music: Jazz, bluegrass, classic country, classic rock, gospel
Books: Cookbooks with lard and butter recipes, National Geographic
9:42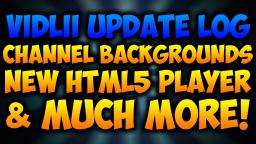 Vidlii Update Log #1 | Channel Backgrounds, HTML5 Player, & More!
3 months ago
124 views
Recent Activity
edray1416 became friends with Date

(1 day ago)

edray1416 I appreciate the support you have given me after retiring from content creating. It's too hard on me to make a video at this point in my life.

(2 days ago)

edray1416 became friends with Saya

(2 days ago)

edray1416 Effective immediately, I am retiring from video making here on VidLii. I'll still be here to post and comment on other user's content. I'm sorry.

(4 days ago)

edray1416 became friends with Chiyo

(5 days ago)