edray1416 Joined: Jun 05, 2017 Last Sign In: 12 hours ago Subscribers: 156 Video Views: 3,177 Channel Views: 2,711
Age: 31
On the original VidBit, I was Bourg Productions, a controversial ranter that pulled no punches. I'm back to my first YouTube username edray1416 doing educational videos among other things. This channel is still the home of radio style conservative media.
Schools: Wharton County Junior College (2006-2008)
Interests: Crime drama, gardening, numismatics, retro gaming, cooking
Movies: Mystery, politics, military
Music: Jazz, bluegrass, classic country, classic rock, gospel
Books: Cookbooks with lard and butter recipes, National Geographic
9:42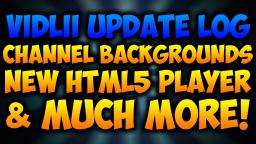 Vidlii Update Log #1 | Channel Backgrounds, HTML5 Player, & More!
5 months ago
135 views
Recent Activity
edray1416 Still waiting to go home. I can't stand the displacement. Don't get me wrong, my business is flourishing, but it could flourish better if I can go home.

(12 hours ago)

edray1416 Getting my business banner today. Thus begins the 6 month journey to expand my business. Meanwhile recording is pending.

(4 days ago)

edray1416 With plenty of subjects to discuss, December 2017 will be an interesting time on VidLii. I'll be glad when I record.

(1 week ago)

edray1416 Finally got my $400 budget for my business finished. Next up, earning $70 to advertise my business for Thanksgiving weekend (post Black Friday).

(1 week ago)

edray1416 In two weeks, I'll be home and I'll finally be able to make a video. Sorry folks. Being displaced is a pain in the neck.

(1 week ago)
spiderfan
(1 week ago)
Glad to hear you are coming back Bourg.
Sayo
(2 weeks ago)
Happy Halloween!
SnotKappy
(2 weeks ago)
☻/ This is bob. Copy and paste him so he can take over Famous Vidlii Channels.
/▌
/\
APPle5auc31995
(3 weeks ago)
Can you do a video about the origin of terrorism?
Oldcpv3
(3 weeks ago)
I hope you come back soon.
Yoji
(4 weeks ago)
Can't wait for your comeback.
Fairyfan
(1 month ago)
I can wait but im looking forward to your comeback. ist going to be a huge day for vidlii.
animoreanime
(1 month ago)
united states altogether is real messed up
animoreanime
(1 month ago)
man. hope you can recouperate. altogether united states is messed up in general. asides the hurricane in various parts of the world, united states now dealing with so much terrorism too.
Please
log in
to post a comment!