Age: 23
Wassup everyone? Name's Ricardo. I love boxing and anime

Name: Ricardo Martinez
Gender: Male
Age: 22
Hair: Black
Eyes: Brown
Height: 5'11
Weight: 179 (Muscle)
Status: Taken

Likes:
My gf
Anime
Boxing
Trump (Yes, I'm a Mexican that likes Trump)
Mexican food
Tacos
Guns
Knives
Swords
Metal
Rock
Being a man
Playing the guitar
The United States Military
The Police
Blood in Blood out

Dislikes:
Liberals
Trump-hating Mexicans
Soy boys
Guilty white liberals
The Mexican government
Illegal immigration (Come in legally, pendejos)
LGBTQ "Community"
Gays (Unless they're descent)
Rap music
Pop music
Mexicans obsessed with their culture
Gangsters
MS 13
CNN
MSNBC
Vox
ABC
Drug dealers
Potheads
Liberals that call themselves "centrist" or "moderate"
Connect with BoxerKingRicardo
3:33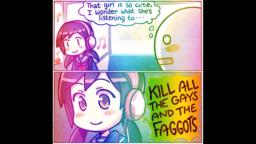 KILL ALL THE GAYS AND THE FAGGOTS
1 year ago
898 views





Recent Activity
BoxerKingRicardo became friends with Gosaku

(1 year ago)

BoxerKingRicardo became friends with Shachi

(1 year ago)

BoxerKingRicardo favorited a video

(1 year ago)




BoxerKingRicardo became friends with Setsumaru

(1 year ago)

BoxerKingRicardo became friends with MarineSergeantBuck

(1 year ago)